It's been almost 20 years since Midnight Oil unveiled a new longform release. That wait will finally be over on October 30 when their seven song mini-album, THE MAKARRATA PROJECT lands online and in stores on CD & Vinyl.
PRE-ORDER THE MAKARRATA PROJECT NOW
Last month, the live-sounding lead track 'Gadigal Land' (featuring Dan Sultan, Joel Davison, Kaleena Briggs & Bunna Lawrie) provided an incendiary first taste of this themed collection. A second single, 'First Nation' (featuring Jessica Mauboy & Tasman Keith), was dropped online today. Driven by a tough drum/guitar/synth groove, this new song recalls the more sonically experimental end of Midnight Oil as featured on trailblazing works like 10 TO 1 and REDNECK WONDERLAND.
Today the band also revealed the full track listing for THE MAKARRATA PROJECT including all the collaborators who have contributed to various songs. The list features a wide cross section of prominent First Nations' artists; from Jessica Mauboy, Alice Skye and Tasman Keith through established talents such as Leah Flanagan and Troy Cassar-Daley to revered elders Kev Carmody, Sammy Butcher and Frank Yamma. One song also features an achingly beautiful posthumous vocal by the legendary artist known as Gurrumul. The collection concludes with an all-star reading of The Uluru Statement From The Heart including prominent Indigenous Australians – Stan Grant, Ursula Yovich, Pat Anderson and AFL trailblazer Adam Goodes.
"All of these brilliant collaborators that we worked with delivered fresh interpretations of the songs, and brought strong new ideas to the album," explains drummer Rob Hirst. "This added immensely to the final result. We were particularly moved that Gurrumul's family and label gave us these previously unheard recordings of him singing. They're a real highlight."
Frontman Peter Garrett said, "It's been 250 years since Cook landed, when Aboriginal and Islander peoples' children, land & waters were first taken away. Yet the impacts of the original dispossession are still widely felt.  We urgently need to up the ante on Reconciliation generally and follow through on the ground breaking Uluru Statement. These songs are about recognising that our shared history needs settlement, and that more than ever, as the Statement From The Heart proclaims, we need to walk together to create a better future."
"The band has always liked to cover a lot of ground," reflects guitarist/keyboardist Jim Moginie, "but this mini-album is particularly diverse. The common thread comes from the subject matter and the collaborative spirit behind each song."
Midnight Oil will donate their share of proceeds from THE MAKARRATA PROJECT  to organisations that seek to elevate The Uluru Statement From The Heart (www.fromtheheart.com.au + www.ulurustatement.org). Sony Music Entertainment Australia will match any artist contribution. After centuries of struggle for recognition and justice, 2017's Uluru Statement called for the establishment of a 'First Nations Voice' enshrined in the Australian Constitution and the establishment of a 'Makarrata Commission' to supervise agreement-making and truth-telling between governments and Aboriginal and Torres Strait Islander peoples.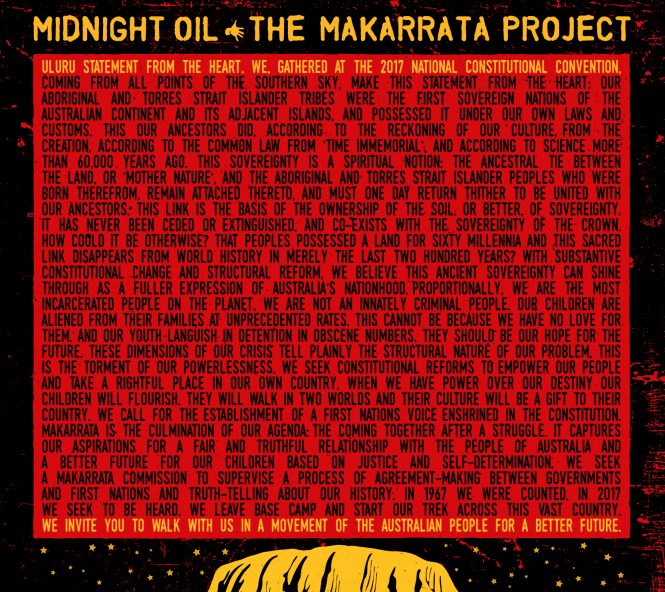 THE MAKARRATA PROJECT
1. First Nation (feat. Jessica Mauboy & Tasman Keith)
2. Gadigal Land (feat. Dan Sultan, Joel Davison, Kaleena Briggs & Bunna Lawrie)
3. Change The Date (feat. Gurrumul Yunupingu & Dan Sultan)
4. Terror Australia (feat. Alice Skye)
5. Desert Man, Desert Woman (feat. Frank Yamma)
6. Wind In My Head [Makarrata version] (feat Kev Carmody & Sammy Butcher)
7. Uluru Statement From The Heart (read by Pat Anderson, Stan Grant, Adam Goodes, Ursula Yovich & Troy Cassar-Daley) / Come On Down (feat. Troy Cassar-Daley)
OUT OCTOBER 30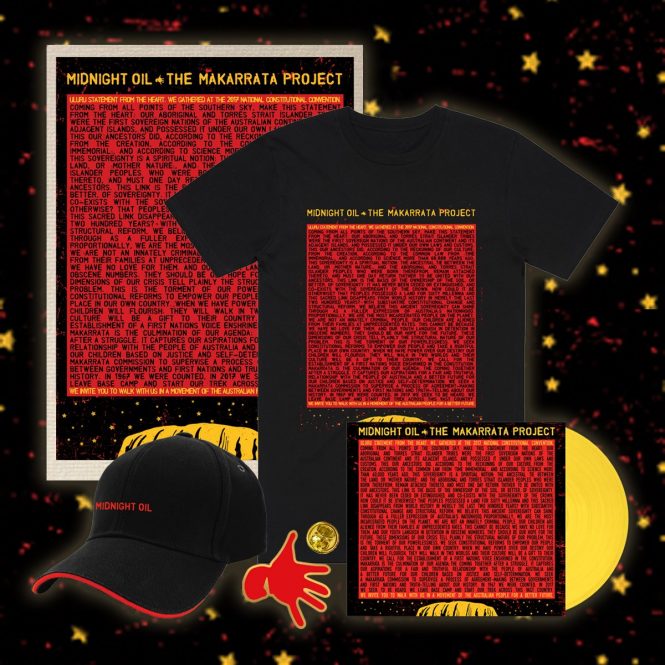 'FIRST NATION' FT. JESSICA MAUBOY AND TASMAN KEITH
NEW SINGLE OUT NOW