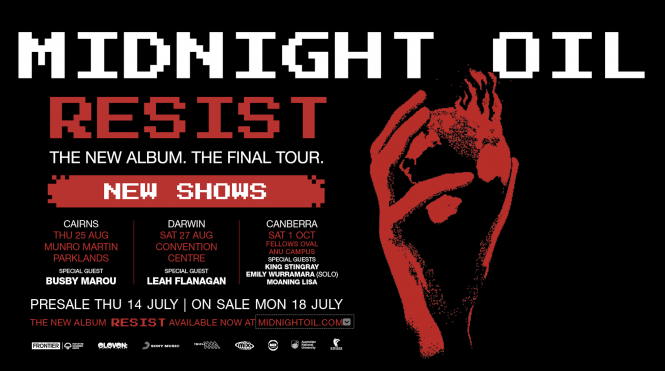 Midnight Oil announced today that they will stage new concerts in three Australian cities where they had to cancel gigs at very short notice earlier this year – Darwin, Cairns and Canberra. With a varying line up on each show, these new dates and the existing Swan Valley show feature a swathe of talented special guests – Busby Marou, Emily Wurramurra (solo), Goanna, King Stingray, Leah Flanagan, Moaning Lisa and Stephen Pigram.
"We were very frustrated that covid cost us two gigs up north and that Canberra safety officials then pulled the plug on that show due to lightning", said Midnight Oil frontman, Peter Garrett. "We said at the time that we would do everything possible to make it up to everyone in those places who missed out, so now we're making good on that promise."
Following their interrupted, but acclaimed, Australian dates in support of their latest ARIA #1 album, the band took "Resist: The Final Tour" across North America throughout June for a memorable series of shows. They are currently playing the tour's European leg which includes iconic venues like London's Roundhouse and an already sold-out performance at the famous Olympia in Paris.
As recently announced, this closing leg of the "Resist" tour will also include two special festival appearances in remote and regional Australia; The Mundi Mundi Bash near Broken Hill and a reprise of the legendary "Stompem Ground" in Broome (see info below).
Finally, back in March the Oils had to blow out an environmental benefit gig at The Palais when drummer Rob Hirst contracted covid. Plans are in the works to make up for that cancelled Melbourne show, and to add something similar in Midnight Oil's hometown of Sydney to wrap up their final tour. An announcement will be made next month regarding dates and venues for these more intimate closing plays.
Fans can sign up at midnightoil.com/newsletter to be receive notifications.
"It was a knockout" – Sydney Morning Herald
"As Midnight Oil close things out with their final tour, it's clear that they're still performing at the peak of their collective powers." – Rolling Stone
"Midnight Oil was passionate and relevant as ever" – Illawarra Mercury
"the band are going out on top: seasoned performers as passionate and energised as ever, with their message of resistance – threaded through almost every element of tonight's show – raging on." – NME
"The band and its dedicated fans joined forces to blow the roof off the building" – Illinois Entertainer, Chicago
"
If it was their final New York City concert, they are bowing out on a very high note
"
– 
Goldmine Mag, New York
"One of the finest of their generation on a worldwide scale.  A triumphant return" – 
Music-News.com, London
"Their concerts exude raw energy and a punch that connects squarely to your adrenal glands." – Martinez Tribune, Oakland
These newly announced RESIST shows will kick off at Munro Martin Parklands, Cairns with special guest Busby Marou on Thursday 25 August, across to Darwin Convention Centre with special guest Leah Flanagan on Saturday 27 August before a final stop at Fellows Oval ANU Campus, Canberra with special guests King Stringray, Emily Wurramara (solo) and Moaning Lisa on Saturday 1 October. 
The Midnight Oil fan presale kicks off from 12noon local time on Thursday 14 July before the General Public on sale starting 12noon local Monday 18 July.  Tickets from www.midnightoil.com/tour
The band will also play their re-scheduled a day on the green Nikola Estate, Swan Valley, WA show with special guests Goanna and Stephen Pigram on Sunday 25 September.  Tickets via: adayonthegreen.com.au/midnightoil

BUSBY MAROU
Appearing at: Munro Martin Parklands, Cairns (Thursday 25 August)
 BUSBY MAROU are Rockhampton duo Thomas Busby and Jeremy Marou. Their meaningful lyrics, melodic guitar riffs and delightful harmonies have seen them win over fans and critics alike and they have gained the reputation as one of Australia's hardest-working live bands best known for their distinctly Australian storytelling and gifted musicianship. Their success includes four ARIA-charting albums. Their 2010 self-titled album is certified gold, while their most recent albums The Great Divide and Farewell Fitzroy debuted in the Top 5, and Postcards From The Shell House was Busby Marou's first ARIA Number 1 album. They have been nominated for multiple ARIA awards, have won 4 APRA awards, as well as The Triffid's "Queensland Album of the Year" award, multiple Queensland Music Awards and 2010's Deadly Award for "Most Promising New Talent". They have millions of global streams across their four album releases.  The band recently released 'Days Like This' and 2022's 'Everything Is Beautiful'.    

EMILY WURRAMARA (SOLO)
Appearing at:  Fellows Oval ANU Campus, Canberra (Saturday 1 October)
EMILY WURRAMARA originates from Groote Eylandt in the Northern Territory and is an AIR award-winning, six-time Queensland Music Award winner and ARIA-nominated artist. In 2018 Emily released an 11-track album Milyakburra, educating and informing in both English and Anindilyakwa languages. The critically acclaimed album features the emotive Lady Blue and Black Smoke. Emily has performed on many global stages and has toured and played with iconic artists including Archie Roach, Mavis Staples, John Farnham, Missy Higgins, Jessica Mauboy, John Butler and more. Described as "one of music's most inspiring Indigenous role models", Emily recently released 'Ayarra Emeba (Calm Songs)' EP.
 
GOANNA
Appearing at: Nikola Estate, Perth (Sunday 25 September) – a day on the green
In the 1980s, GOANNA's debut album, Spirit of Place, helped forge a new Australian identity. The iconic Solid Rock stoked a fire for Indigenous rights that hasn't gone out, while the anthemic Let The Franklin Flow was a call to arms for Australia's emerging environmental movement. \/Goanna released three studio albums: 1982's Spirit of Place, 1985's Oceania and 1998's Spirit Returns. Soulful, lyrical, political, humane and brimming with musicality, originality and creative volatility, Australia has never produced a group like Goanna, before or since. In 2022, forty years after their debut album, Shane Howard, Rose Bygrave, Marcia Howard and Graham Davidge, with special guests, are reliving those treasures, as they embark on Celebrating 40 Years Of Spirit Of Place – a year of paying homage to the Goanna spirit again.  

KING STINGRAY
Appearing at: Fellows Oval ANU Campus, Canberra (Saturday 1 October)
Yirrŋa Yunupiŋu (vocals), Roy Kellaway (guitarist), Dimathaya Burarrwanga (guitarist), Campbell Messer (bass) and Lewis Stiles (drums) make up the Australian indie, pop-rock band KING STINGRAY. Hailing from the small town of Yirrkala (NT), the band perform in both English and Yolŋu Matha – the traditional language of the indigenous people of northeast Arnhem Land in northern Australia – and describe their sound as 'Yolŋu surf rock.'  King Stingray released their debut single Hey Wanhaka in 2020 before taking out the title of triple j Unearthed Artist of the Year in 2021. Their follow up singles Get Me Out (2021) and Milkumana (2021) made waves in the local music scene when they charted in the 2021 triple j Hottest 100 taking out places #46 and #56 respectively.  The band recently released 'Let's Go' and a sublime version of Coldplay's 'Yellow' for triple j's Like A Version.
 
LEAH FLANAGAN
Appearing at: Convention Centre, Darwin (Saturday 27 August) 
Originating from Darwin, Leah Flanagan grew up in a household filled with music and culture – boasting a proud Italian, Indigenous (Alyawarre) and Irish heritage that she credits as early influences to her sound. Flanagan's latest album 'Colour By Number' is out now through her own Darwin based, Indigenous owned and operated label Small Change Records.  The album features the singles 'Aralia', 'Starlight' and the self-titled track 'Colour By Number'.  
MOANING LISA
Appearing at: Fellows Oval ANU Campus, Canberra (Saturday 1 October)
Moaning Lisa is composed of Charlie Versegi (singer/guitarist), Hayley Manwaring (singer/bassist) Ellen Chan (lead guitarist) and Hayden Fritzlaff (drummer). Renowned for creating an atmosphere entirely of their own, the band deftly combines a garage rock, grunge fantasy with 'one massive, cosy, accepting love-fest' (Rush On Rock).  It is this live prowess which has landed them support slots for DZ Deathrays, Rolling Blackouts Coastal Fever and Mitski as well as slots at some of the country's most prestigious festival such as; Splendour in the Grass, Falls Festival, Yours and Owls and Kennedy's Creek Festival.  Singles include 'Inadequacy', 'Carrie (I Want A Girl)', 'Good' and 'Something'.

STEPHEN PIGRAM
Appearing at: Nikola Estate, Perth (Sunday 25 September) – a day on the green
From the pearling town of Broome in the south-west Kimberley region of Western Australia, home of the Gularrabulu nation,Yawuru-Jugun jabi wamba, singer/songwriter/musician Stephen Pigram is probably best known for his work with six of his siblings in the Pigram Brothers (1997-2017) band.  He was also a member of the seminal 1980's Broome bands Kuckles and Scrap Metal and was musical director and co-writer of Jimmy Chi's "Bran Nue Dae" (1990) and "Corrugation Road" (1997).  Stephen now steps out solo armed with his guitar, ukulele & harmonica performing songs from his two solo CD releases – Wanderer (2013) and Solfish (2021), as well as local cult classics.
Don't miss Midnight Oil "Resist: The Final Tour", final shows. Tickets from www.midnightoil.com/tour
MIDNIGHT OIL
RESIST: THE FINAL TOUR
AUGUST – OCTOBER 2022
Presented by Frontier Touring, Roundhouse Entertainment, Triple M (Cairns QLD, Swan Valley WA), Mix 106.3 (Canberra), Mix 104.9 (Darwin)
MIDNIGHT OIL PRE-SALE NEW SHOWS
Runs 24 hours from: Thursday 14 July, 12noon local
or until pre-sale allocation exhausted
Sign up for pre-sale access here: midnightoil.com/newsletter
GENERAL PUBLIC ON SALE NEW SHOWS
Begins: Monday 18 July, 12noon local
Thursday 25 August 2022
Munro Martin Parklands, Cairns, QLD
Licensed All Ages
Presented by Triple M
Special guest: Busby Marou
General public tickets on sale Monday 18 July, 12noon local
ticketlink.com.au | Ph: 1300 855 835
Saturday 27 August 2022
Darwin Convention, Darwin, NT
Licensed All Ages
Special guest: Leah Flanagan
General public tickets on sale Monday 18 July, 12noon local
ticketek.com.au | Ph: 132 849
ticketek.com.au | Ph: 132 849
Sunday 25 September 2022
Nikola Estate, Swan Valley, WA **
a day on the green
Licensed All Ages
Presented by Triple M
Special guests: Goanna and Stephen Pigram
Tickets on sale now
ticketmaster.com.au | Ph: 136 100
Saturday 1 October 2022
Fellows Oval ANU Campus, Canberra, ACT
18+*
Presented by Mix 106.3
Special guests: King Stingray, Emily Wurramara (solo) and Moaning Lisa 
General public tickets on sale Monday 18 July, 12noon local
moshtix.com.au | Ph: 1300 438 849
Also appearing at:

Thursday 18 – Saturday 20 August 2022: Mundi Mundi Bash, Broken Hill, NSW**
Saturday 17 September 2022: Stompem Ground, Broome, WA**
* Under 18's can attend with guardian
** Not promoted by Frontier Touring
All shows subject to final regulatory approvals. Frontier Touring reserves the right to alter show details to comply with government and health regulations.


Patrons are advised to purchase tickets only through authorised ticket sellers.
We cannot guarantee any ticket purchase made through any means other than the official ticketing agents listed on the Frontier website.