The Great Circle has carved its way through the Northern Territory with three memorable shows marking Midnight Oil's return to their homeland. A low key visit to the remote settlement of Kintore last Saturday night saw the band reconnect with the remote community they helped immortalise in the lyrics to "Beds Are Burning". Two nights later they brought the dead heart to life again with a two hour set in Alice Springs that drew critical raves like this and saw them covering Warumpi Band's "From The Bush" as a local nod.
Then last night over 5,000 fans in Darwin were treated to an epic cover of the classic "Treaty" (co-written back in 1991 by members of Yothu Yindi with Peter Garrett and Paul Kelly) which featured a special guest vocal appearance from Witiyana Marika, along with Gwanbal Jason Gurruwiwi on the didgeridoo. Later in the night, in addition to their own classic songs the Oils played part of Tom Petty's "Won't Back Down" in tribute to the US rock legend who died 2 days ago.
The tour now heads to Queensland – starting on Friday night with a special sold out benefit gig for Australia's greatest living treasure, The Great Barrier Reef.

Photo: Sean Richards
Ya wouldn't read about it.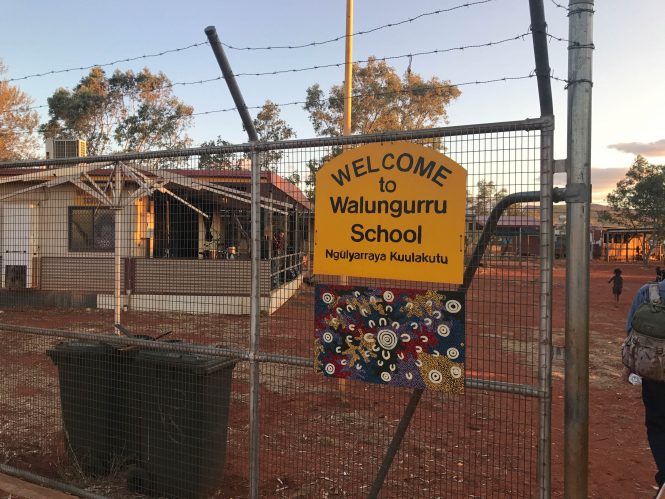 Kintore 30/9

Photo: Jim Moginie
Kintore 30/9

Photo: Jim Moginie
Kintore 30/9

Photo: Jim Moginie
Kintore 30/9

Photo: Jim Moginie
Kintore 30/9

Alice Springs 1/10

Alice Springs 2/10
Photo: Chris Tangey
Alice Springs 2/10

Alice Springs 2/10

Alice Springs 2/10

Alice Springs 2/10

Alice setlist 2/10

Darwin 4/10

Photo: Amy Hetherington
Darwin 4/10
Photo: Amy Hethrington
Midnight Oil perform "Treaty" in Darwin (co-written back in 1991 by members of Yothu Yindi with Peter Garrett and Paul Kelly), featuring a special guest vocal appearance from Witiyana Marika, along with Gwanbal Jason Gurruwiwi on the didgeridoo. 4/10
Photo: Amy Hethrington
Peter and Witiyana Marika 4/10
Photo: Jack Howard
Darwin 4/10