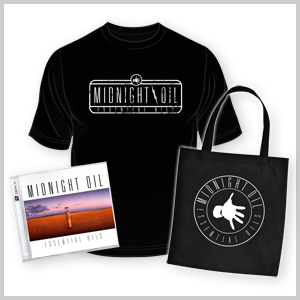 Legendary Australian rock band Midnight Oil, will release their new 36 track Greatest Hits collection ESSENTIAL OILS on Friday 2nd November, 2012.
Handpicked by the band and distilled from their amazing 25 year recording legacy, this two disc set is a chronological history; a road trip through the very best of the band's 14 studio albums and two groundbreaking EP's. The package features remastered audio, liner notes by Rolling Stone Magazine Senior Editor, David Fricke and rare images from the Oil's archive.
Known around the world for their support of peace, environmental issues and social justice, Midnight Oil wrote songs about the issues that mattered to them. They saw the world through uniquely Australian eyes, their music conjuring up the sights and sounds, the heat and expanse of their homeland. No band better exemplifies what it means to be Australian and no Australian band is better known for their dedication to the ideal of a fair go for all.
Above all, the Oils were about making great music and the list of singles and live favourites here is comprehensive. From early tracks such as Cold Cold Change, Back On The Borderline and Armistice Day, to breakthrough Australian hits Power and the Passion and Read About It, to the songs that put them on the world stage; Beds Are Burning, The Dead Heart, Blue Sky Mine and Truganini; the length and breadth of Midnight Oil's recorded catalogue is staggering.
"For this collection, we put our most definitive songs in chronological timeline, so listening feels like a turbo boosted journey at light speed through 25 years of being in Midnight Oil" says the band's Jim Moginie. "There's many more favourites we could have included" adds Rob Hirst, "but we had fun writing and recording all of these and loved playing them live. We also think they show the dynamics and diversity of the tracks we recorded in studios in Australia and overseas, and chart the band's changing sounds, stories and memberships over a 25 year period. We really hope you enjoy Essential Oils."
DISC 1:
1. Run By Night
2. Cold Cold Change
3. Back On the Borderline
4. Wedding Cake Island
5. No Time for Games
6. Don't Wanna Be the One
7. Armistice Day
8. Lucky Country
9. Only the Strong
10. Short Memory
11. Read About It
12. US Forces
13. Power and the Passion
14. When the Generals Talk
15. Best of Both Worlds
16. Kosciusko
17. Progress
18. Hercules
DISC 2:
1. Beds Are Burning
2. Put Down That Weapon
3. Dreamworld
4. The Dead Heart
5. Warakurna
6. Blue Sky Mine
7. Forgotten Years
8. King of the Mountain
9. One Country
10. Truganini
11. My Country
12. In the Valley
13. Surf's Up Tonight
14. Redneck Wonderland
15. White Skin Black Heart
16. Say Your Prayers
17. Golden Age
18. Luritja Way