Hello again. We wanted to let you know that we'll be doing a few gigs next year. We really enjoyed making music together again on The Great Circle tour and the reaction from everyone was so positive that we've decided to do a bit more of it in 2019. There won't be anywhere near as many shows as in 2017, but we're keen to keep performing while there are still new places to play and new things to say. It's as simple as that really.
First of all, we're planning to do some dates in Europe over June/July. As you'll see from the shows we're announcing today, they're nearly all in cities we weren't able to visit last time around. We might be part of a few other European events too, and we'll keep you posted on those if/when they're confirmed.
We understand that Australians and Kiwis might be wondering if and when we're going to do some more gigs closer to home. At this stage the only one we've confirmed is the Big Red Bash in Birdsville on July 18 and you can find all the info on that unique event here. When we saw the photos we just couldn't say no. Hopefully there will be some other AU/NZ dates in the bigger cities toward the end of next year but we won't know for sure for several more months. You can sign up to our mailing list here to make sure you hear any news direct from us as soon as it's confirmed.
In the meantime please don't believe any rumours you read or hear as we genuinely haven't made any firm plans beyond these June/July dates. Also, wherever you live we strongly advise you to avoid purchasing any tickets to our shows from so called "online resellers" like ViaGoGo. The tickets they offer may be fakes and are typically very overpriced. When in doubt, simply follow the links from our website here to avoid getting ripped off.
Thanks for listening and one way or another we hope to see you again in 2019.
Best Regards,
Bones, Jim, Martin, Peter & Rob.
CLICK HERE FOR ALL TOUR DATES, TICKETING LINKS AND MORE INFO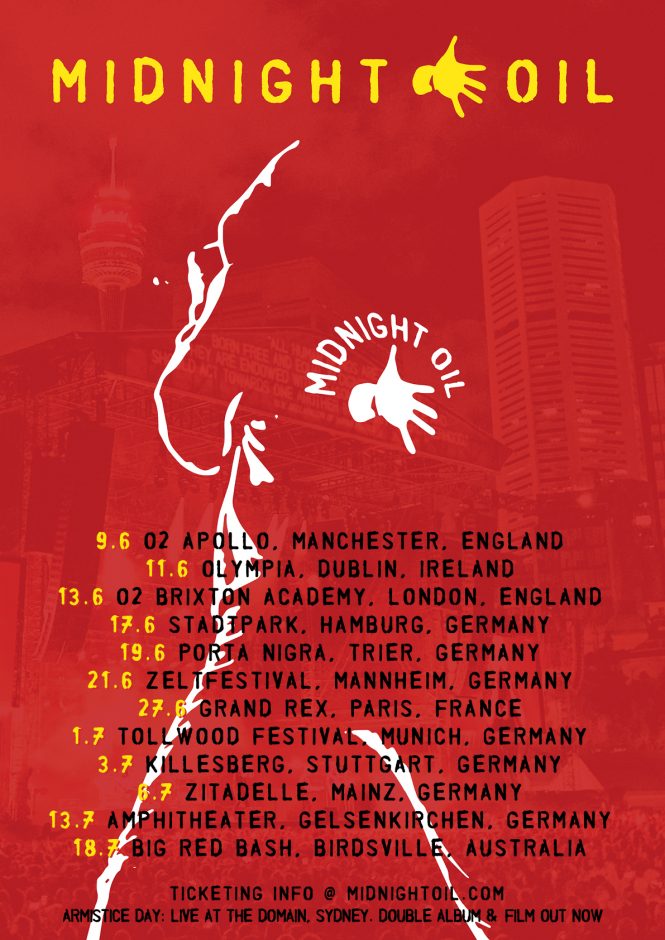 MIDNIGHT OIL 2019 TOUR DATES
EUROPE / UK
SUN 9 JUNE O2 Apollo | Manchester, England
TUE 11 JUNE Olympia | Dublin, Ireland
THU 13 JUNE O2 Brixton Academy | London, England
MON 17 JUNE Stadtpark | Hamburg, Germany
WED 19 JUNE Porta Nigra | Trier, Germany
FRI 21 JUNE Zeltfestival | Mannheim, Germany
THU 27 JUNE Grand Rex | Paris, France
MON 1 JULY Tollwood Festival | Munich, Germany
WED 3 JULY Killesberg | Stuttgart, Germany
SAT 6 JULY Zitadelle | Mainz, Germany
SAT 13 JULY Amphitheatre | Gelsenkirchen, Germany
AUSTRALIA
THU 18 JULY Big Red Bash | Birdsville, QLD