Midnight Oil are delighted to announce that they will return to the fabled "Stompem Ground" on Saturday 17 September at the Father McMahon Oval, Broome.
20 years after this festival's last staging – and 24 years since the Oils last appeared at it – Australia's far north west will again come alive to a captivating celebration of the spirit of Aboriginal people across the Kimberley region set to the theme of 'the time has come to say fair's fair'. The hotly anticipated event coincides with the Kimberley Stolen Generations  Aboriginal Corporation's 21st anniversary and 25th anniversary of the Bringing Them Home Report.
"Reconnecting with people in Broome, celebrating culture and the extraordinary Kimberley region and being among lots of great bands and performers. It's going to be very special." –  Peter Garrett.
Tickets on sale to the general public at 10am AWST 23 June, here.
Fan presale information, below.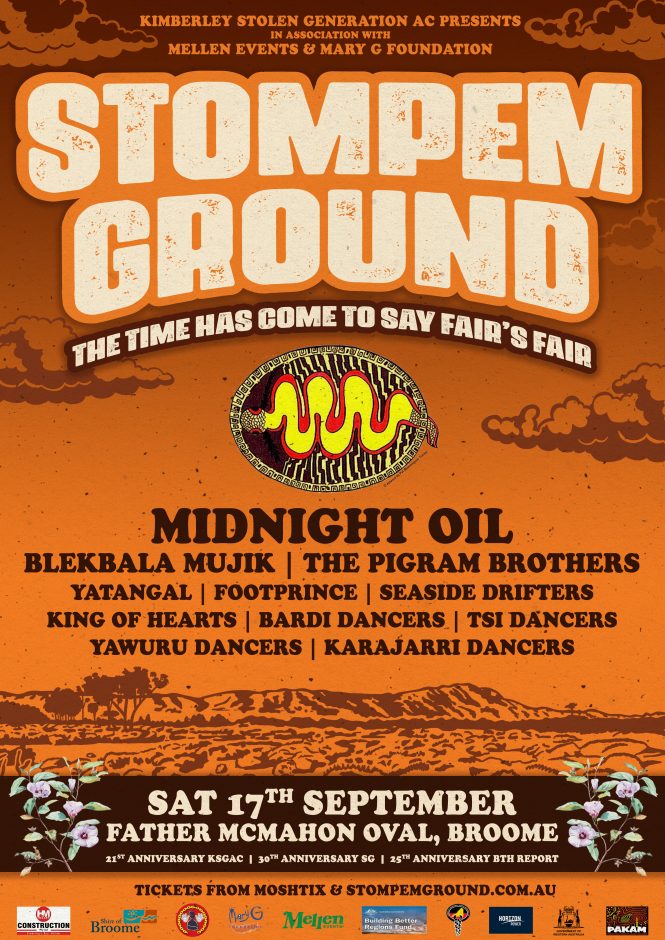 STOMPEM GROUND FAN PRESALE INFORMATION
Exclusive fan presale: Wed 22 June, 10am WST – Thu 23 June, 10am WST
(no password required)