The Great Circle 2017 came to a close in the Northern Hemisphere this week, bringing the band's total performances to an even 50 gigs so far this year. But they clearly aren't resting on their laurels. Firstly, the band made their first ever appearance in South East Asia with a whistle-stop visit to Singapore before landing back in L.A. for one night at the famous Greek Theatre. Aptly enough for a warm summer evening, they performed "Love Life" (from the "Lasseters Gold" CD in The Overflow Tank) for the first time ever onstage. Two nights later at New York's Terminal 5 they premiered "Heart Is Nowhere" (from the same disc) and also busted out a previously unheard cover of The Clash's "London Calling" to celebrate the birthday of the late Joe Strummer. In Montreal they gave another Blue Sky Mining outtake – "21st Century Human" – its first live airing; perhaps helping to inspire some onstage dancing by audience members later in the show. The following nights in Toronto and Cleveland saw the Oils do very rare performances of "Can't See Reason" and "Koala Sprint" respectively before their final tour surprise in Minneapolis where they covered Warumpi Band's anthem "From The Bush".
Other highlights of this tour leg included a day off at the Rock & Roll Hall of Fame in Cleveland (where "Beds Are Burning" is enshrined as one of the "500 Songs That Shaped Rock & Roll") and sharing stages with fellow Aussies The Living End and The Smith Street Band plus honorary Aussie Matt Good.
After a week back at home Midnight Oil heads to Aotearoa – their first visit there since 1995 – before finally starting their eagerly anticipated homecoming tour exactly one month from now.

Photo: Maclay Heriot
The Greek, Los Angeles 8/19

Photo: Maclay Heriot
The Greek, Los Angeles 8/19

Photo: Maclay Heriot
The Greek, Los Angeles 8/19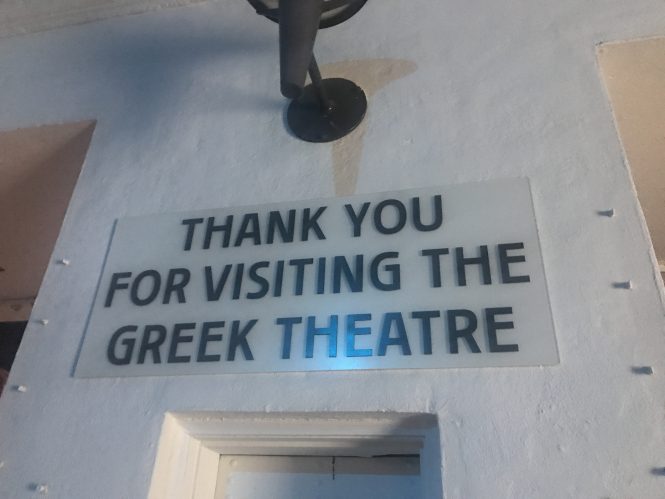 The Greek, Los Angeles 8/19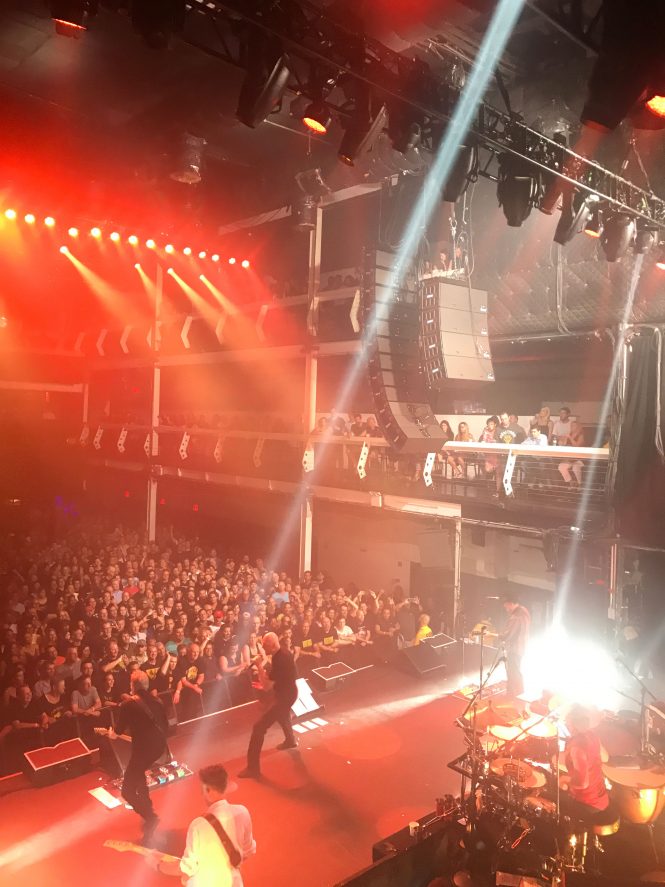 Terminal 5, New York City 8/21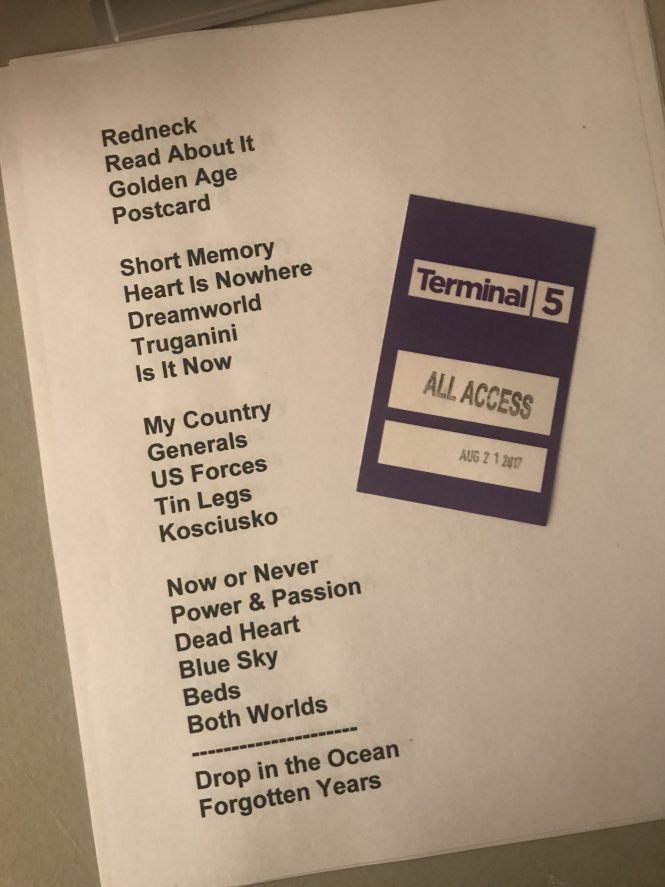 Set list at Terminal 5, New York City 8/21

Photo: Jack Howard
Rob's shirt post performance 8/21

Photo: Jim Moginie
Montreal soundcheck 8/23

Photo: Jim Moginie
Backstage in Montreal 8/23

Photo: Jim Moginie
"Cocktail time" – Jim Moginie 8/25

Photo: Jim Moginie
"A tale of two drummers: a joy having TLE on this leg of the tour, they are the Fab Three" – Jim Moginie 8/25

Photo: Jim Moginie
"View from the stool, Toronto" – Jim Moginie 8/25

Photo: Jack Howard
House of Blues, Cleveland 8/27

Photo: Jack Howard
A present from Glam Doll Donuts, Cleveland 8/27

Photo: Lesley Holland
Rock & Roll Hall of Fame, 8/28

Photo: Jim Moginie
"Johnny and June Cash's bus, Hall of Fame Cleveland" – Jim Moginie 8/28

Photo: Jim Moginie
"Rob and Ringo. Peace and Love." – Jim Moginie 8/28

Photo: Jim Moginie
"Goosebumps with John Lennon's Gibson J160 E up close. Used on 'I Feel Fine' (the first feedback ever recorded), wrote the songs for 'The White Album' in India, used on 'Give Peace A Chance'. This machine kills fascists." – Jim Moginie 8/28

Photo: Jack Howard
Dump Trump, Minneapolis 8/29

Photo: Lesley Holland
Midnight Oil, The Living End and Jack Howard after the final North American show, Minneapolis 8/29